Archive for May 31, 2013
May 31, 2013
What is a Premium?
A premium is anything of value that you offer a prospect or client in exchange for taking an action that you direct them to. This could include an incentive or a gift.
The right premium could encourage someone who might otherwise set aside the mail to act now instead of later (or not at all). This works especially well when there is a limited quantity available or you state a deadline for responding. An example of this would be offering a Starbucks coffee gift card in exchange for filling out a survey or submitting an honest testimonial.
Premiums can also be used to generate demand for your products and services, to reward fast response, or to boost the size of an order.
Why Does a Premium Work?
Everyone wants something for free, but they also want to reward those who rewarded them.
Premiums work because of the "rule of reciprocation" made famous by Robert Cialdini, a psychologist and author of Influence: The Psychology of Persuasion. According to Cialdini, "We are obligated to give back to others the forms of behavior that they have given to us. Essentially, thou shalt not take without giving in return."
How Premiums Improve Direct Mail Response?
Any direct mail campaign includes the following components:
The Mailing List
The Design
The Copy
The Offer
The Print & Packaging
Timing & Delivery
How do premiums fit into this? They are part of the offer.
Most premiums have low costs but a high perceived value. Although premiums add to the cost of a mailing, the gain in response and the attention they provide outweigh the additional expenses.
Premiums can be delivered in several ways, depending on the goals of the campaign. The premium can be delivered as a front-end offer, when you want your mailing to stand out. It can also be delivered as a bonus or incentive, if the recipient responds to your call to action. In this case, a photo or graphic image of the premium would work well.
Examples of premiums can be found in daily life outside of direct mailers. The McDonald's Happy Meal is often purchased because of the toy premium inside rather than the food. Many cereal boxes are sold because of the trinkets inside as well. Premiums are often used at sporting events when the ticket attendant hands out a calendar or a bobble head to the first 1,000 attendees. Premiums are also found in many non-profit mailers, where a free set of mailing labels with your return address printed on them are included, along with the request for a donation. Our society at large is conditioned to appreciate premiums.
Premiums can also be used to encourage your existing clients to give you referrals and testimonials. They can be used as great reminders to motivate your best clients to help you get more customers.
But will premiums work for you?
Remember that your premium is only one part of the direct mail package. You must still follow best practices and essential principles of direct mail. Although a premium can improve results, premiums alone do not guarantee success.
Just because premiums work for many companies does not guarantee that they will work for you. Test different premium offers, and keep careful records of your costs and sales (or leads) generated.
Although the recipients are not obligated to respond, history, case studies, and human psychology indicate that offering premiums can significantly boost your response rates. Direct mail + a premium can be a winning combination to boost business for your company.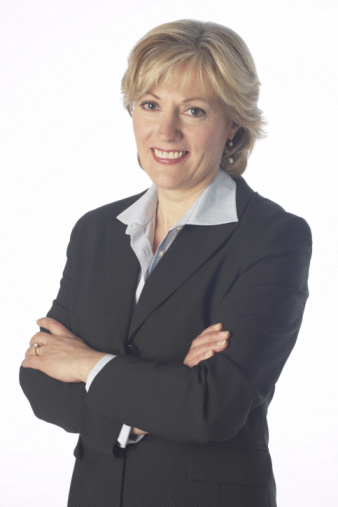 May 24, 2013
Typically, many hours are spent deciding on the logo, layout, and tagline to include on a company's business cards. But not much time goes into thinking about strategies to make those business cards actually work to bring in customers. That is a mistake.
Business cards are like mini ambassadors for your business. They represent you, your company, and your brand. Business cards often provide the first impression a recipient will have of you and your company. They shouldn't be just an afterthought in your marketing collateral mix.
To effectively market and advertise your business, whether through business cards, social media, or a website, the first step is to create awareness. Awareness is generated through uniqueness. The colors, stock, font, graphics, and unusual finishing touches like rounded corners or foil stamping and special die cutting can all add up to create a business card that stands out in a crowd.
Simple elegance and a clean, uncluttered layout work best. Sometimes more is learned about a business by the professional look and design of its business card than by almost any other marketing collateral. Prospects may forget about and toss out many other collateral pieces, but they usually keep an interesting business card.
Visually standing out is the first step to make a business card work to bring you business. The second involves the recipient and answering a simple five-word question…
What's In It For Me?
The text on your business card must quickly and clearly explain the benefits of working with you. You can't fit an entire brochure on the small area a business card provides (although some people try!). Most companies will list the services they provide. That is fine to do on the back of a business card.
On the front, however, where everyone looks first, you need to state clearly what results your products and services deliver. What is the primary benefit of working with your company? Make it short and sweet. Don't hide it. Proudly display it on the front of the card.
The quality of the stock used, the font and layout, the finishing touches, and the copy used all work hand in hand to create a powerful, client-getting business card.
But those beautiful cards won't do much good if they aren't getting deployed. Take business cards everywhere you go. Put a stack in your car, in your wallet, and in your purse or briefcase. If you find the right target audience, hand them not one but several cards and ask them to pass the extras along to colleagues or friends who might be able to use your services.
Strategically thinking about the design, production, and copy on your business cards has the effect of creating a viral campaign for your business. Unlike the online variety, this is a viral campaign that can actually bring you real results and not just buzz in the marketplace.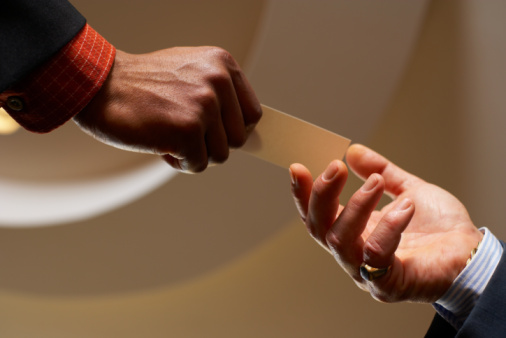 May 21, 2013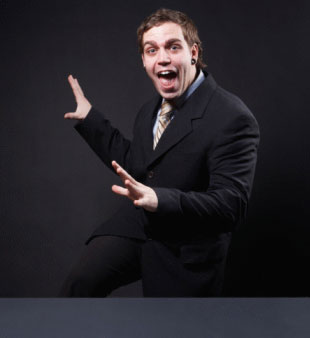 Most advertising today is of the "me too" variety. When you've seen one, you've seen them all. The louder they yell: "LOOK AT ME!" the faster you want to toss the ad in the trash, change the channel, or click delete.
Open the yellow pages (if you can still find one!), look inside a magazine or newspaper, listen to a radio ad, watch a TV commercial, or take a look at your mail. Can you see any difference between most of the messages you encounter? Very few of the ads truly stand out.
Why does this ineffective method continue? Because competitors continually monitor each other. They conclude, without any real proof, that the competitor's ads must be working. So they copy each other.
The line of thinking that goes with this method is to hit the audience over the head repeatedly until they cry uncle and buy something. This might work for a company with a massive advertising budget, but it is ineffective for smaller budgets.
If you want to create real wealth and grow your business, dump this method of old school, lazy, traditional thinking.
Start by taking a look at the most critical aspect of any advertising campaign: the message itself. Most ad copy lists a series of features. The better ones will also list some of the benefits you get from those features. But there is still something missing to make it stand out.
Most of us believe that we, as smart shoppers, make our buying decisions based on left brain logic. That may be true when we first start looking at a product or solution, but study after study has shown that most buying decisions are ultimately made with the right brain emotional side.
The way to hit a home run with your marketing messages is to appeal to that emotional side when prospects look at your product or service. To determine what emotional triggers work for your business, you'll need to get inside your product or service to pull out what real solutions it provides. But that's just the start. Next, you'll have to tie the solution you provide to an emotion your prospect may feel about it. What pain does it solve?
The more emotion you can weave into your ad copy, the more effective your ad will be.
As an example, think about the luxury car market. Specifically Mercedes-Benz. Logically, it makes little sense to spend well over $60,000 to buy one of their higher-end models when a vehicle for less than half the price can get you from point A to point B just fine. How do they overcome this sales problem?
Sure, they provide a list of bells and whistles fit for a NASA space shuttle, but that's not what really sells a Mercedes-Benz. The way they sell one is to appeal to the emotional part of the brain. The ads paint the picture of a countryside drive, sitting inside a quiet cockpit, where you can almost smell the luxurious leather. You can see yourself zipping around the curves while others look at you with envy. Mercedes-Benz is selling status, not just another car.
Emotions drive our purchasing decisions. We all tend to buy products from brands that make us feel good about ourselves or enhance our sense of self-esteem in some particular way.
Emotional advertising is not just for big brands with big budgets. It takes a little mental work to get to the message that will resonate for your audience, but the effort is worth it. Once you get to the core emotional hot buttons, your business and marketing messages will truly stand out from all the clutter.